ADON LOVES – WEARABLE FASHION: NOOKA WATCHES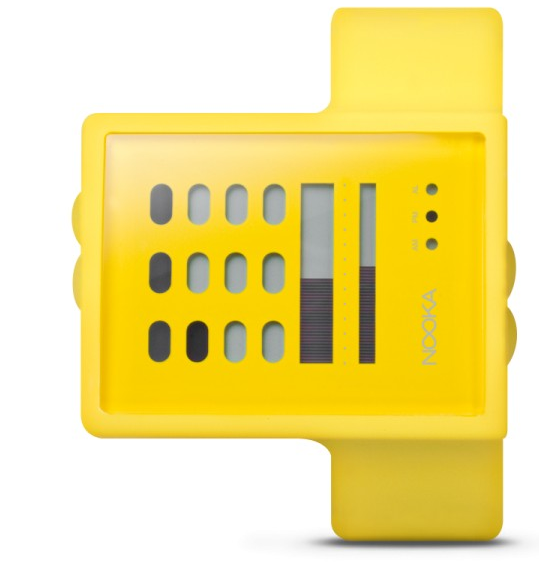 I was discussing with a newly made friend over a glass of red wine today about how the world today seems to be so technologically dependent.  This was further proven whilst riding the subway and overhearing a debate between several preteen girls about who's cell phone was 'coolest' and how if they were to lose it, they would 'DIE. Literally.'
It seems that in the sparkle of modern day technological marvels, the appreciation of the simplicities seem to have faded.  As adamant as people are to resist the new age grasp phones and portable computers are forcing onto us, it is becoming more of a 'sink or swim' situation where you either jump on the bandwagon or you get left behind.  But what happens when you want to embrace the technological look but still feel as though you're in possession of a touch of vintage flair?  Enter stage left, Nooka wristwatches.
Nooka Inc was founded by the artist/designer Matthew Waldman as what started out as a side project, however due to the encouragement of fellow designers and Nooka Inc's first client, The Museum of Modern Art, Waldman perused Nooka as a full time venture.  The resulting product is a futuristic spin on a classical accessory.
The watches leave you feeling as though you are wearing a piece of art.  Something that speaks volumes about innovation yet is still understated.  Every piece seems to be thought out to the fullest extent and named accordingly.  For example, the ZUB ZAYU watch is one that is named after the Japanese word 'sayu' meaning left and right.  This name was selected as this particular design can be worn on either your left or right hand.  It's design shape is intended to transfer all the weight of the watch to the wrist which makes wearing it feel like it's not even there, (so be sure to check it's still there throughout the busy work day). The wide variety of colors and designs of these unisex time trackers simply means that there will be a look suited to everyone and their universality extends to people from all walks of life, whether you're a student, a business executive or anything else you can imagine.
Slide your phone back into your pocket.  The next time someone stops you in the street to ask you for the time, then go on to compliment your wristwatch, chortle amusedly and let them know that you're wearing a Nooka.  The kind of watch that is slowly bringing peoples gaze away from technology and focussing it on style and flair.  Just like the times of old and the way it should be, again.
[gallery ids="797,798,799,800,801,802,803,804,805,807"]
All images obtained from the Nooka MINDSTYLE website: http://www.nooka.com/
All Nooka products can be purchased from a wide variety of stockists, both online and throughout the USA.
For online purchases, please visit http://www.nooka.com/buy or to view a full list of stockists, please visit:  http://www.nooka.com/store-locator-wp-4748.html
Also, thank you to the team at Red Light PR, NY for introducing me to the Nooka product range.